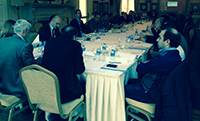 ALT held a workshop titled "Problems of the Alevi People and Democratization of Turkey" on January 25, 2014 in Ankara. Alawi opinion leaders were brought together with liberal democratic persons among academia, media, politics, bureaucracy, and civil society to discuss and evaluate problems and demands of Alawi people in a productive and constructive platform.
The problems of Alawi people in the lands of Turkey have roots before the Republic whereas the foundation of the Republic- based on two stances broadly nationalism and secularism- provoked serious specific official policies against them. Therefore there are problems of the community and individuals concerning individual rights, freedom of association, freedom of religion, free education as a civil right as well as psychological and emotional matters to be compensated by the government.
The workshop provided a structure to debate on via 4 reports where three of them covered the main problematic areas and the final one focused on identifying the current situation and practical proposals to be realized by the government to guarantee abovementioned freedoms.
Among the reports, Prof. Bekir Berat Ozipek made a presentation on "The Directorate of Religious Affairs". He emphasized the need to liquidate The Directorate of Religious Affairs for a neutral state. Assoc. Prof. Rıza Yıldırım layed out the sociological and historical place of the Cemevi/djemevis (places of worship) and stressed the vital point of recognizing them as places of worship both as a matter of freedom and a democratic political strategy. Assoc. Prof. Dr. Hasan Yücel Başdemir made a presentation on "Private Education and Religion Class in Public Curriculum". He proposed to get Alawism as an elective class urgently given by Alawis at public schools as well as removing barriers before opening private schools with private curricula. Participants have also proposed concrete political and social solutions. Historian Senol Kaluc, coordinator of ALT's Alawi Baktashi Studies, proposed a series of practical steps to be taken by the government to compensate Alawi people's troubles such as making official holiday for them on their religious days, organizing or covering their religious festivals by the government or by the public broadcasting channels, etc.
The reports and proposals have been extended to the members of the media, civil organisations and the government.
Prepared reports can be accessed from the link below. (in Turkish)
The Problems of the Alawi People and Democratization of Turkey