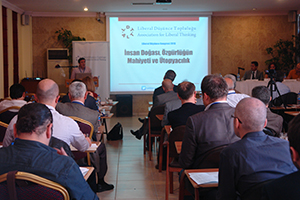 2013 Congress for Liberal Thought was held in Urgup Dinler Hotel, on November 1-3.
The congress which is being held since 1993 brought together academics, lawyers, journalists, and social, intellectual and business entrepreneurs who have been working to promote individual freedoms, free competition, limited government and freedom of enterprise in Cappadocia.
In 2013 Congress for Liberal Thought, the core issues of Turkey and the world and pluralistic and peaceful solutions to these problems were discussed in the light of fundamental values and foundations of free society. This meeting was an opportunity to exchange ideas and develop common ideas and initiatives for more than 150 opinion leaders.
The congress opened with ALT Chairman Dr. Bican Sahin's opening remark. First session, titled Turkey's Economy: A Liberal Economy?, was moderated by Assoc. Prof. Fuat Oguz. In this session, Assoc. Prof. Ahmet Yılmaz Ata, in his presentation titled History of Turkish Economy and Liberalization, assessed Turkey's economy from liberal point with the historical perspective. The second speaker of the first session Dr. Aykut Ekinci made a presentation titled The Reasons of Growth After the 2001 Crisis and emphasized that current strict fiscal policy was vital decision for Turkey's economy.
The second session's title was Human Nature, Freedom and Utopianism. In this session moderated by Prof. Turgay Uzun, Assist. Prof. Huseyin Bal made a presentation titled Positive Rights Bound to Paternalism and explained that positive freedom, by nature, was paternalist and therefore it justified government intervention for the sake of the citizens. Dr. Bengul Gungormez, in her presentation titled Modern Messiahs, expressed that modernism created new secular religion while it separated religious things from public sphere. The last speaker of the second session was Assist. Prof. Melih Yurusen with his presentation, "Human Nature, Social Political Conditions of Peaceful Social Plurality: Humean Perspective". In his presentation, Yurusen mentioned different "liberalisms".
The third session, moderated by Dr. Serdar Korucu, was titled Freedom of Expression, Hate Speech and Pornography. The first speaker Assist. Prof. Cennet Uslu's presentation was Hate Speech Crime in terms of Freedom of Expression. Uslu stressed that when hate speech was identified as a crime; it became a kind of censorship towards freedom of expression and an enemy of freedom of expression. The second speaker Assist. Prof. Fatih Birtek made a presentation titled Turkish Penal Code and Pornography. He said that pornography should be left to individuals' will if it is not forcible. The last speaker Kubilay Atlay, in his presentation titled Freedom of Expression and Pornography, marked a conceptual framework about pornography and freedom of expression.
The fourth session titled Power and Media was chaired by Şeyma Akın. The first speaker was Murat Erdin, program producer in Bugun TV. He assessed freedom of press and relations between power and media in Turkey by giving examples from his book Unarmed Forces Media. The second speaker Prof. Bekir Berat Ozipek stressed that to be limited freedom of expression by public authority and to be taken away the means of expression were different form each other.
First day of the congress was completed with presentation of Prof. Alan Kahan, witer of the book Mind vs. Money. He explained the reasons why intellectuals were against to capitalism and how to take a stand toward this popular discourse.
The second day of the congress began with the session titled Gezi Park Events and Turkey's Democratization Experience. This session was chaired by Gulay Gokturk. Speakers were Prof. Atilla Yayla, Assoc. Prof. Murat Erdogan, Orhan Kemal Cengiz and Markar Esayan. Prof. Yayla emphasized that each part of the society identified Gezi Park Events with different names such as revolt, social reaction, rebellion and even revolution. He also divided Gezi Park Events into two parts: First Gezi and Second Gezi. He said that the Second Gezi turned into an attempt to overthrow the legitimate government with illegitimate means. Journalist Markar Esayan remarked that with the freedom process in the period of Justice and Development Party, people began to demand more freedom and therefore to continue reforms were important. Lawyer Orhan Kemal Cengiz mentioned the Gezi Report of Amnesty International. Assoc. Prof. Murat Erdoğan preferred to tell geziphobia and gezicholic psychology in the society instead telling the image of Gezi Park Events in other countries.
The last session of the congress was titled Reconciliation Process. In this session, moderated by Ufuk Coskun, Editor of sivildusunce.com, Coor of Center for Studies on Educational Policy, the first speaker Görkem Nemutlu presented public opinion survey about perception of reconciliation process in Sivas. According to survey, rate of supporting to this process was around 60% and this could change according to age and level of education. The second speaker Psychiatrist Mahir Yesildal assessed the positions of Kurds in Gezi Park events and reconciliation process. Dr. Levent Korkut from Wisemen Committee told Experience of Wisemen Committee and Democratization Package. Last speaker of the session was Vahap Coskun. He indicated that level of education and support to reconciliation process were inversely correlated and one of the reasons was ideological concerns.
Together with the questions, answers, coffee- breaks, the congress provided a unique opportunity to participants in order to meet each other and exchange ideas.