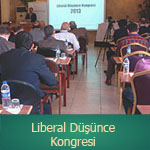 November 6 – 8, 2009
Hotel Dinler, Ürgüp – Nevşehir city, Cappadoccia
6 November 2009, Friday
Registration

Welcoming Coctail
7 November 2009, Saturday
Registration
Opening Remarks
Joerg Dehnert, Resident Representative of Friedrich Naumann Foundation
Dr. Bican Şahin, President, ALT
I. Session: Philosophical Foundations of Liberalism
Chair: Prof. Dr. Atilla Yayla, Plato College
Speaker: Prof. Dr. Mustafa Erdoğan, Hacettepe University
II. Session: Progressivism and Reactionism: Does this Dichotomy Really Matter?
Chair: Prof. Dr. Recep Tapramaz, Ondokuz Mayıs Unıversity
Speaker: Bengül Güngörmez, Ege University
Speaker: Ferhat Güneş, Computer Engineer, Technology and Freedom
III. Session: Judiciary and Freedom
Chair: Raşit Sarıkaya, Lawyer
Speakers:
Prof. Dr. Mehmet Turhan, Çankaya University
Assoc. Prof. Dr. Ali Şafak Balı, Selçuk University
IV. Session: Economic Crisis and Market Economy
Chair: Prof. Dr. Enver Alper Güvel, Çukurova University
Speakers:
Assoc. Prof. Dr. Fuat Oğuz, Başkent University, Economic Crisis through the Austrian School Perspective
Ünsal Çetin, Economist, Whose Crisis and Which Solution?
Discussion Groups
8 November 2009, Sunday
V. Session: The Kurdish Problem
Chair: Assoc. Prof. Dr. Bekir Berat Özipek, Istanbul Trade University
Speakers:
Dr. Vahap Coşkun, Dicle University
Orhan Miroğlu, Author
Sedat Yurttaş, Politician, IXI. Term Former MP
VI. Session: The Alevite Problem
Chair: Dr. Murat Yılmaz
Speakers:
Şenol Kaluç, Historian, Director of the Center for Alevi and Bektashi Studies
Assoc. Prof. Dr. Necdet Subaşı, Coordinator of the Government's Alevi Workshop
Doğan Bermek, President of the Federation of Alevi Foundations
Lunch and Closing