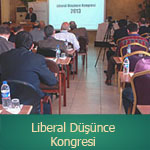 2006 Congress of Liberal Thought
3 – 5 November 2006, Ürgüp, Cappadoccia
3 November 2006, Friday
Opening reception and Dinner
4 November 2006, Saturday
I. Session Economical Freedom and Prosperity
Chair: Prof. Dr. Kürşat Aydoğan, Bilkent University
Speakers:
Prof. Dr. Erdal Türkkan, ALT Center for Economical Freedom
Assoc. Prof. Dr. Mustafa Acar, Kırıkkale University
Discussion
II. Session Religion and Freedom
Chair: Dr. Bilal Sambur, ALT Center of Researching Religion and Freedom
Speakers:
Hasan Yücel Başdemir, Hitit University
Ali Murat İrat, Ankara University
Discussion
III. Session Scientisizm as a Method in Social Sciences: A Remedy or a Diseaster?
Chair: Prof. Dr. Ömer Çaha, Fatih University
Speaker: Prof. Dr. Hüsamettin Arslan, Uludağ University
Discussion
IV. Session Human Rights: Where is Turkey in Theory and in Practice?
Chair: İlkay Okdemir, Center for the Study on Human Rights
Speakers:
Dr. Levent Korkut, Hacettepe University, Amnesty International
Ayhan Bilgen, Mazlum-der
Hakan Ataman, Human Rights Agenda Association
Discussion
5 November 2006, Sunday
V. Session The Meaning of Being Liberal: Individual Experience
Chair: Prof. Dr. Recep Tapramaz, OMU
Speakers:
Prof. Dr. Atilla Yayla, President of ALT
Prof. Dr. Faruk Özgür, Columnist in Hurfikirler.com
Discussion
VI. Session Liberal Philosophers and their Works: Bureaucracy, Ludwig von Mises
Chair: Buğra Kalkan, General Director of Liberal Thought
Presentation: Salih Zeki Haklı, Gazi University ISS, Politcal Science Dept.
Discussion
Closing