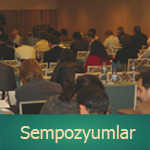 Frame of Democratic Expansion in Turkey
October 24-25, 2009, Gordion Hotel, Ankara
October 24th, 2009, Saturday

Opening Remark Dr. Bican Şahin, Chairman, ALT
I. Session Frame of Democratic Expansion
Session Chair: Prof. Mustafa Erdoğan, Hacettepe University, Dep. of Political Science and Public Administration
Speakers:
Assoc. Prof. Bekir Berat Özipek, Gaziosmanpaşa University, Dep. of Public Administration
Dr. Vahap Coşkun, Dicle University, Law Faculty
II. Session Peace and Democracy Cases in The World: Spain and North Ireland
Session Chair: Prof. İhsan Dağı, METU, Dep. of International Relations
Speakers:
Akın Özçer, Former Diplomat
Dr. Bekir Çınar, Warsaw University of Administrative Sciences ve Albania Epoka University Department of International Relations and Pol. Sci.
III. Session Discussions


October 25th, 2009, Sunday
IV. Session Solution 1: Constitutional Citizenship
Session Chair: Prof. Mehmet Turhan, Çankaya University, Law Faculty
Speaker: Prof. Fazıl Hüsnü Erdem, Dicle University, Law Faculty
V. Session Solution 2: Administrative Reconstruction
Session Chair: Prof. Yavuz Atar, Selçuk University, Law Faculty
Speaker: Assoc. Prof. Yusuf Şahin, Karadeniz Technical University, Dep. of Public Administration
VI. Session Solution 3: Education in Native Language
Session Chair: Assoc. Prof. Yusuf Tekin, Gaziosmanpaşa University Dep. of Public Administration
Speaker: Dr. Vahap Coşkun, Dicle University, Law Faculty
VII. Session To Develop A Constructive Incentive in Terms of Democratic and Civil Solution
Session Chair:
Dr. Murat Yılmaz, Political Scientist and
Orhan Kemal Cengiz, Lawyer-Author, Chairman, Human Rights Agenda Association
Closing