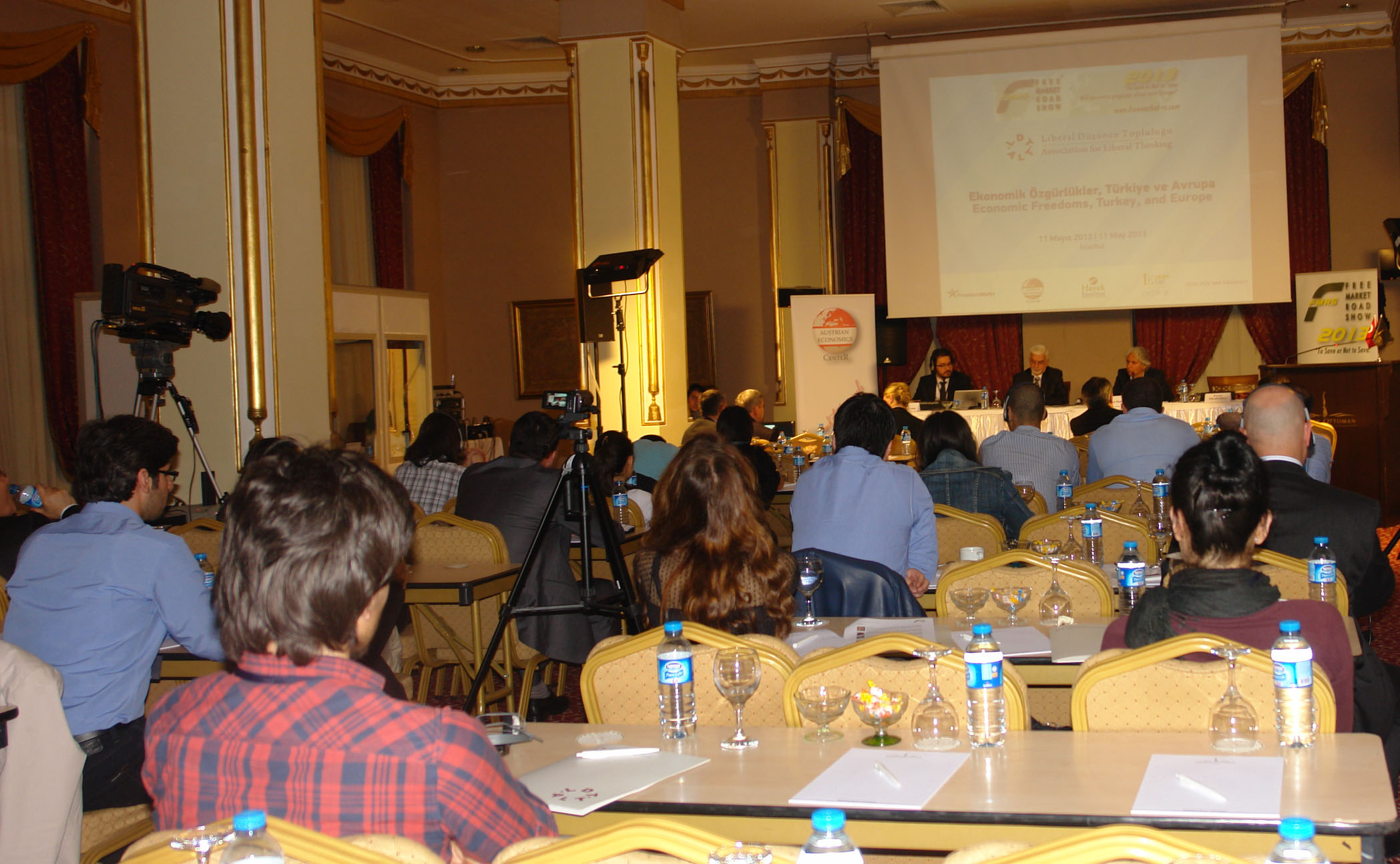 Economic Freedom, Turkey and Europe

11 May 2013
Hotel Legacy Ottoman, İstanbul
Free Market Road Show was held in Istanbul on 11th of May
Free Market Road Show, a series of international meetings, organized regularly by Austrian Economics Center since 2008, was held in Istanbul on Saturday 11 May 2013 hosted by Association for Liberal Thinking. Along with international donors like Liberty Fund, and Global Philanthropic Trust, Friedrich Nauman Foundation contributed to the program in Istanbul.
Free Market Road Show, held each year in nearly 25 European countries with the contribution of businessmen, politicians, academicians and journalists from many countries such as the USA, France and Georgia, aims to discuss current economic problems within pluralism, free competition and the rule of law.
The program titled "Economic Freedoms, Turkey and the European Union," was opened by the remarks of Dr. Bican Sahin, chairman of ALT and Dr. Barbara Kolm, Founding Chairman of Austrian Economics Center.
Prof Ihsan Dagi from METU chaired the first session entitled "Economic Freedom and the Liberal Democracy". In this session, Prof Atilla Yayla of Istanbul Commerce University indicated that economic freedoms are an indispensable part of liberal democracy. Associate Professor Tamer Çetin at Yıldız Technical University discussed how economic freedoms could be accommodated in the constitution since drafting a new one is on Turkey's agenda. Chairman of New Economic School Georgia Paata Sheshelidze remarked that redistributing and democracy as its political means had a capacity to violate our liberties.
The second session, entitled "Barriers before Entrepreneurship and Free Competition" was moderated by chairman of the Institute of Economic Studies (IES-Europe, France) Professor Pierre Garello. In this session, Assoc. Prof. Fuat Oguz from Yildirim Beyazit University revealed that regulations resulted in higher costs via preventing free competition and delivering political rents. Prof Murat Cokgezen of Marmara University questioned the concept of public interest and professional chambers intervening in the markets under the pretext of asymmetrical information; where this caused low quality and expensive service in each sector as well as restricting entrepreneurship. Thirdly, international political economy adviser Mark Klugmann, who once worked in Reagan Government, explained a proposal of free zones (LEAP Zones). He developed this proposal as a solution for extending a micro approach to macro level problems based on legal, economic, administrative and political structures for economic development.
In the last session, chaired by Professor Mustafa Acar, Rector of Aksaray University, first speaker economist Unsal Cetin argued that rules-based monetary policy is critically important for constitutional government; otherwise economic crises would be inevitable. Founding Chairman of the Institute for Market Economics of Bulgaria (IME) Dr. Krassen Stanchev and Founding Chairman of the Austrian Economics Center Dr. Barbara Kolm criticized regulations and harmonization of EU and its short-run austerity programs which actually caused financial crises. Speakers expressed that heavy centralization undermines freedom and diversity in Europe and brought about negative results which will affect the future generations. Finally, long run structural reforms and economic freedoms; private property rights, free enterprise, free competition and freedom of contract have to be strengthened so that Europe can regain its economic dynamism.
For further details on 2013 Free Market Road Show
09.30 – 10.00 Opening Remarks
Dr. Bican Şahin, President, ALT
Dr. Barbara Kolm, President, Austrian Economics Center
10.00 – 11.30 1. Session:
Economic Freedom and Liberal Democracy
Chair: Prof. Dr. Ihsan Dagi, METU, Editor of Insight Turkey
Speakers:
Prof. Dr. Atilla Yayla, Istanbul Commerce University
Yasemin Pamuk, Friedrich Naumann Foundation Caucausus Region
Paata Sheshelidze, New Economic School, Georgia
Assoc. Prof. Dr. Tamer Cetin, Yildiz Technical University
11.30 – 12.00 Break
12.00 – 13.30 2. Session:
Barriers Before Entrepreneurship and Free Competition
Chair: Prof. Dr. Pierre Garello, Institute for Economic Studies
Speakers:
Assoc. Prof. Dr. Fuat Oğuz, Yildirim Beyazit University
Prof. Dr. Murat Çokgezen, Marmara University
Mark Klugmann, International Consultant in Political Economy
Prof. Dr. Milica Vukotic, Dean of the Faculty for Information Systems and Technologies, University of Donja Gorica, Montenegro
13.30 – 14.30 Lunch
14.30 – 16.00 3. Session:
Fiscal Policy, Public Finance Policy and Economic Crisis
Chair: Prof. Dr. Mustafa Acar, Economist, Rector at Aksaray University
Speakers: Ünsal Çetin, Economist, Senior Fellow, ALT
Severin Meister
Dr. Krassen Stanchev, Institute for Market Economics, Bulgaria
Assoc. Prof. Dr. Birol Kovancılar, Celal Bayar University
2012 Free Market Road Show in Ankara, Europe at a Turning Point