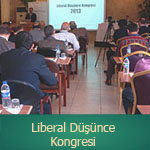 IV. Congress of Liberal Economists
25 - 28 April 2003, Cappadoccia
25 April 2003, Friday
26 April 2003, Saturday
Opening Remarks
Gözde Ergözen, Association for Liberal Thinking
Nazım Tural, Friedrich Naumann Foundation
I. Session The Thought of Adam Smith
Chair: Mustafa Acar, University of Kırıkkale
Speakers:
Ekrem Erdem, University of Erciyes
Atilla Yayla, Gazi University
Discussion
II. Session International Money System through Liberal Perspective
Chair: Metin Toprak, University of Kırıkkale
Speakers:
Selahattin Togay, Gazi University
Nurettin Öztürk, Z. Kara Elmas University
III. Session State and Regulation
Chair: Erdal Türkkan, Akdeniz University
Speakers:
Fuat Oğuz, Başkent University
Güven Delice, University of Erciyes
Tamer Çetin, Kara Elmas University
27 April 2003, Sunday
IV. Session Entrepreneurship and Local Examples
Chair: Tahir Büyükakın, University of Kocaeli
Speakers:
Orhan Çakmak, Hacettepe University
Bahadır Akın, Selçuk University
Hüsnü Kapu, University of Kırıkkale
V. Session Early Ottoman Economics
Chair: Cevat Gerni, Atatürk University
Speakers:
Birol Çetin, University of Gazi Osman Paşa
Abdülkadir Buluş, Selçuk University
Mehmet Bulut, Başkent University
VI. Session Globalization: What does it Bring and Takes Away?
Chair: Atilla Yayla, Gazi University
Speakers:
Kürşat Aydoğan, University of Bilkent
Mustafa Acar, Kırıkkale University
Yusuf Bayraktutan, Kocaeli University
Discussion
Dinner