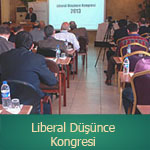 IV. Congress of Political Scientists and Jurists
9 - 10 October, 2004, Sivas
8 October 2004
Arrival in Sivas

Dinner

Panel

on "Turkish Democracy in the Membership Process to the European Union" in the
Conference Hall of the Sivas Chamber of Commerce
9 October 2004, Saturday
Opening Remarks
Dr. İhsan Dağı, ALT
Dr. Manfred Ziemek, FNF
I. Session General Compulsory/Obligatory Education and its Dilemmas
Chair: Prof. Dr. Niyazi Öktem, Bilgi University
Speakers:
Yüksel Göktaş, METU
İlyas Söğütlü, University of Dumlupınar
Discussion
II. Session Religions, Violence and Terrorism
Chair: Prof. Dr. Atilla Yayla, Gazi University
Speakers:
Bilal Sambur, SDU
Melih Yürüşen, Freelance Author
Discussion
III. Session Transparency within the State and the Right to Get Informed
Chair: Asst. Prof. Ahmet Turan Alkan, University of Cumhuriyet
Speakers:
Dr. Adnan Küçük, University of İnönü
Oğuzhan Demir, Dokuzeylül University
Ramazan Altınok, State Planning Organization
Discussion
IV. Session European Identity and Turkish Identity
Chair: Prof. Dr. İhsan Dağı, METU
Speakers:
Dr. Hüsamettin İnaç, Uni. of Dumlupınar
Assoc. Prof. Dr. Nuri Yurdusev, METU
Asst. Prof. İrfan Kaya Ülger, Uni of Kocaeli
Discussion
10 October 2004, Sunday
V. Session Individual Rights and Group Rights
Chair: Prof. Dr. Mustafa Erdoğan, Hacettepe Uni.
Speakers:
Asst. Prof. Erol Kuyurtar, Uni of Muğla
Asst. Prof. Şahabettin Yalçın, Uni of Muğla
Vahap Coşkun, Dicle Üniversitesi
Discussion
VI. Session Reform in Public Administration
Chair: Zekeriya Şarbak, Ministry of Internal Affairs
Speakers:
Dr. Rıza Arslan, University of Balıkesir
Asst. Prof. Hamza Al, University of Sakarya
Asst. Prof. Bekir Parlak, University of Uludağ
Dr. Hasan Canpolat, Governor of Sivas
Discussion
Overall Discussion and Closure
Lunch