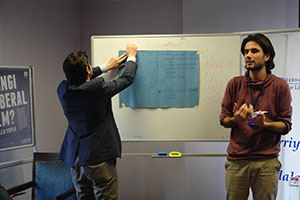 The Workshop on "Values of Free Society" was held on 21-23 February in Ankara
Association for Liberal Thinking held a workshop titled "Values of Free Society" on 21-23 February in Ankara in cooperation with Friedrich Naumann Foundation. Selected students among the participants of past Liberty Schools were invited to the program so that they can better express themselves in a more interactive seminar and find an opportunity to discuss liberal ideas in depth.
The program was conducted under the moderation of Ms. Ozlem Caglar Yilmaz. The workshop was mainly based on group works and presentations of participants.
The first day of the seminar began with Assoc. Prof. Bican Sahin's presentation titled "Which Liberalism?" Sahin mentioned about the different perspectives of liberalism. The second presentation titled "Entrepreneurship, Free Market and Property" belonged to Assoc. Prof. Fuat Oguz. He told the relationship among these three concepts and gave examples from daily life. Following Fuat Oguz's presentation, program continued with an icebreaker activity on free exchange of simple goods distributed by the moderators with each other, evaluating the satisfaction degree before and after, the game was a simulation of free markets. After group works and presentations, Dr. Aykut Ekinci made last presentation of the first day with the title "Understanding of Fundamental Principles of Economy". The first day of the seminar ended with dinner and bowling.
The second day started with ALT Media Affairs Coordinator Harun Kaban's presentation titled "Basic Filming Tecniques". Assist. Prof. Cennet Uslu made second presentation titled "Neutral State". Cennet Uslu told different perspectives about this complicated and ambiguous issue and by asking some questions, she helped the students to discuss and understand the subject. The workshop ended with group works and presentations.