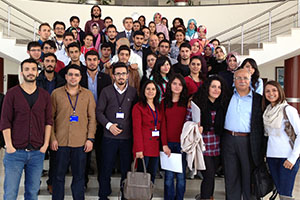 Association for Liberal Thinking held a workshop titled "Principles of a Free Society " on November 23-24, 2013 in Aksaray in cooperation with Friedrich Naumann Foundation. During two days, approximately 60 students attended this seminar.
After the opening and presentation, Prof. Mustafa Acar, Rector of Aksaray University, made a presentation on "Free Market Economy". Prof. Acar, in general, expressed the aspects of free market economy and emphasized poor consequences of external interference towards these aspects of free market.
The second session was delivered by Arda Akcicek, Hacettepe University Research Assistant, on "Civil Society". After emphasizing the significance of voluntariness in civil society, he drew a historical framework by starting from the emergence of civil society concept and its different definitions interpreted by different philosophers.
In the third session, Assist. Prof. Melih Yurusen made a presentation titled "Classical Liberalism". Assist. Prof. Yurusen told historical development of classical liberalism and highlighted that in classical liberalism, the state is seen as a necessary evil and it has to be limited.
In last session of the first day, Asisst. Prof. Adnan Kucuk made a presentation on "Rule of Law". He began with the definition of rule of law and pointed out that in modern understanding, rule of law means superiority of law for not only citizens but also actions of the state.
The first session of the second day started with Prof. Yusuf Sahin's presentation on "Liberal Democracy and Local Government". He expressed that democracy is meaningful only with liberal principles. He also said that democracy evolved from majoritarian understanding to pluralistic understanding.
Last presentation was delivered by Assist. Prof. Adnan Kucuk on "Freedom of Expression". He defined the aspects of freedom of expression and mention divisions on this subject. He also expressed that the common characteristic of democratic and developed countries is to give importance to freedom of expression.
The program ended with evaluation session. In this session, participants stated that program, with its complementary subjects, were very efficient.
"Principles for a Free Society"
23-24 November 2013, AKSARAY
23 November 2013, Saturday
Registration
Openning Speeches
Mustafa Acar, Aksaray University
Harun Kaban, Association for Liberal Thinking
Market Economy, Mustafa Acar, Prof. Dr., Rector, Aksaray University
Civil Society, Arda Akçiçek, Hacettepe University
Classical Liberalism, Melih Yürüşen, Assoc Prof. Dr., Aksara University
Rule of Law, Adnan Küçük, Assoc Prof. Dr., Kırıkkale University
24 November 2013, Sunday
Liberal Democracy and Local Government, Yusuf Şahin, Prof. Dr., Vice Rector, Aksaray University
Freedom of Speech, Adnan Küçük, Assoc. Prof. Dr., Kırıkkale University
Closing