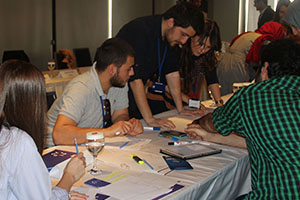 Association for Liberal Thinking held a workshop titled "Foundations of Free Society" on 5-7 April 2013 in İzmir in cooperation with Friedrich Naumann Foundation. There were 30 students from 9 different universities.
The program started with Dr. Bilal Sambur's presentation on "Freedom of Religion and Freedom of Expression". Dr. Sambur gave a definition of freedom in general and talked on extensions of civil liberties particularly on freedom of religion and freedom of expression. Sambur mentioned the differences between positive freedom and negative freedom. He also emphasized that freedom of religion does not only include religious people's but also non-believers' rights not to believe. The session ended with discussions, contributions of participants and questions/answers part.
Second session was delivered by Dr. Buğra Kalkan on "Freedom and Spontaneous Order". Dr. Kalkan gave some examples from routines of daily life and offered connections between these routines and rules. He explained how humans make up orders spontaneously. He mentioned the importance of discovery processes of life and values of these processes for a better life. He ended up his session with making connections between free market economy and spontaneous order as features of a free society.
Second part of the day started with the presentation of Assoc. Prof. Dr. Birol Kovancılar on "Private Property and Free Market Economy". He talked on elements of a free market economy like private property, freedom of choice and freedom of enterprise, competition in the market, limited government and free trade.
Second day of the program started with the presentation of Dr. Tanju Tosun titled "Foundations of Democracy and Related Problems in Turkey". He talked on indispensable elements of democracy. End of his speech covered reflections on democracy in Turkey and its problems.
The last session of the program covered group works and group presentations. Participants divided into five groups. Each group worked on a question and they had their presentations. The program ended with a closing session.
The program gathered students from nine different universities. The participants found opportunity to exchange their ideas with others.