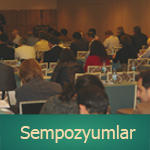 Mont Pelerin Society Special Meeting was Held in Istanbul
ALT cohosted international Mont Pelerin Society Special Meeting in Istanbul on 30 September – 3 October at the Marmara Hotel. (www.mpsistanbul.org) Mont Pelerin Society is founded by economist Prof. Friedrich von Hayek to bring scholars and intellectuals to discuss political and economic problems in the world to find solutions in free marketer perspective to promote individual liberty, limited government and prosperity. (For further information www.montpelerin.org) For this the Society conducts general and regional meetings. Istanbul event was a special meeting to raise classical liberal intellectual for regional problems as well as to bring together participants from the broader region Balkans, Caucasus, Middle East and Central Asia.
In this sense the MPS Istanbul gathering happened to be a big success with its high quality presentations, high variety of participants all over the world among which 100 fellows were from the above mentioned targeted regions. There were over 250 participants from all over the world. In the opening dinner, Mrs Linda Whetstone, the President of Network for a Free Society made a speech emphasizing the aims of MPS as not being an organization to impose some values but to create a platform for discussion on the basis of some principles. Prof. Kenneth Minogue, the current president of the MPS mentioned the historical timing of the meeting in Istanbul pointing out the developments in Turkish democracy and economy as well as the Arap spring where Minogue claimed "Kamalist secular and modern Turkey" would be a model. Following these, Prof. Dr. Atilla Yayla, cofounders of ALT made a keynote speech. Yayla asserted that, every culture, be it ethnic, or religious might contain friendly or non-friendly elements with respect to liberty. In this sense it would not be right to name common universal human values as "Western" and to argue that Islam is totally against these values which promote peace and prosperity. Therefore Yayla stated that freedom defenders shall try to find and nourish features from every culture that promote liberty, peace and prosperity. (You can find the full text of the speech herehttp://www.liberal.org.tr/ldt_details.php?kategori=MTg=&id=Nzg2)
Next day, on October 1st, the program continued with the debate on "Liberty and Nation State". Dr. Stephen Davies from the Institute of Economic Affairs, UK on "Nationality, Nationalism and Liberty", Prof. Chandran Kukathas from London School of Economics on "Liberty and the Challenge of Diversity"; and Leon Louw from Free Market Foundation, South Africa on "Are Multinational Statesmore Conducive to Individual Liberty than Nation States?". The panel chaired by Prof. Dr. Nils Karlson from Ratio Institute Sweden was enriched by the arguments of Dr. Douglas den Uyl from Liberty Fund as a discussant. Dr. Davies found nationality as a spontaneous concept where nationalism as a more constructivist project, Kukathas discussed freedom of association for the problems of diversity to offer liberal perspectives not to restrict moral and cultural variety. Louw displayed democratic electoral results from various centralized and decentralized governments to argue that nation states do tend to suppress civil liberties.
Second session chaired by Dr. Nigel Ashford from the Institute for Humane Studies, US, hosted Assoc. Prof. Dr. Bican Sahin and Cumhur Thomas Gür, a political consultant and writer from Sweden, the discussant was Dr. Tom Palmer from Atlas Network. Gür discussed "the Culture and Nation in the Era of Globalization"; new cultures are formed in the meantime modern states maintain collectivist structures and national concepts. Dr. Sahin talked on toleration and freedom and whether they can flourish in nation states.
Third session was on "Nation States and Freedom of Expression" accommodating Mustafa Akyol columnist from Hurriyet Daily News and Dr. Sam Gregg from the Acton Institute for Religion and Liberty, US. Akyol gave a broad perspective about freedom of expression in the nation states which expose official ideologies, and debated about violations of freedom of expression in Turkey in that regard. Dr. Gregg focused on freedom of religion and discussed whether it is secured in nation states. Dr. Doug Bandow from the Cato Institute was the discussant of the session chaired by Dr. Ed Feulner the president of Heritage Foundation located in Washington DC.
The next day was spared for an excursion and bout tour which enabled participants to interact and discuss various ideas of which developed new cooperation areas.
Last day, October 3rd started with the Session on Economic Interventionism in Nation State. The President of Center for Independent Studies, Australia chaired the session. Prof. Dr. Peter Boettke from George Mason University discussed whether state intervention in the economy is inevitable. Dr. David Henderson from the Hoover Institute looked over the popular arguments about the Great Financial Crisis which take the debate to questioning free markets and requires reunderstanding the source of the crisis. Prof. Timur Kuran from Duke University talked about state interventionism in Middle Eastern Economies and the Roles of Islamic Law. Anthony Randazzo who has various studies on finance in Middle East from Reason Foundation, US was the discussant of this session.
Fifth session continued the debate on the Boundaries of the State with Dr. Michael Wohlgemuth from Walter Eucken Institute and Prof. Dr. James Tooley from New Castle University, UK. Tooley enriched the debate with his particular studies on private education in poor countries. Dr. Krassen Stanchev from Institute for Market Economics, in Bulgaria, was the discussant. Mr Dan Peters from the Ruth and Lovett Peters Foundation, one of the donors and supporters of the meeting chaired the session.
The final session of MPS was on Supranational Bodies to discuss whether they protect liberties or not as if they claim to do so. Prof. Julian Morris from Reason Foundation, US looked over the international law and liberty. Prof. Dr. Razeen Sally, the president of European Center for International Political Economy located in Brussels, examined World Trade Organization whether it acts as a global liberator or regulator of trade. And MEP Daniel Hannan analyzed European Union. Speakers were quite skeptical and critical about these international organizations as protector of individual liberties and freedom of choice. Dr. Edwin van de Haar from Leiden University Netherlands was the discussant of the panel chaired by Prof. Dr. Victoria Curzon Price.
Every session was followed by question and answer parts following the presentations, participants followed the presentations and contributed to the debates.
The Mont Pelerin Society Special Meeting in Istanbul was closed with the Gala Dinner held at Dahill Istanbul located at the historical Yildiz Park. The meeting was closed by the final remarks of Assoc. Dr. Bican Sahin, the president of ALT and Mrs. Özlem Caglar Yilmaz, the general coordinator of ALT. Ms. Cynthia Farahat, a political activist from Democratic Dream Foundation, Egypt and Manar Rachwani, a Syrian journalist living Jordan made guest speeches to close the event mentioning what is happening in their home countries and stating their desire and will for their countries of freedom, justice and peace
Moreover the program provided an excellent opportunity for topical and regional cooperations and further ideas.
Among many other great ideas, Istanbul Network for Liberty is established as an international network to promote classical liberal intellectuals and intellectual entrepreneurs in the Muslim World.