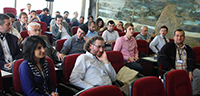 Free Market Road Show, a series of international meetings, organized regularly by Austrian Economics Center since 2008, was held in Istanbul Commerce University in Istanbul on Saturday 03 May 2014 hosted by Association for Liberal Thinking with the contributions of Friedrich Naumann Foundation Turkey and along other main sponsors.
Free Market Road Show, held each year in nearly 25 European countries with the attendance of businessmen, politicians, academicians and journalists from many countries such as the USA, Austria, France, Bulgaria and Georgia, aims to discuss the current economic problems from the perspective of pluralism, free competition and the rule of law.
The program, held in Istanbul with the title "Political and Economic Freedom, in Turkey and Europe" was composed of two sessions which were "Where is Turkey and Europe on pluralism and free market?" and "Challenges, Promises and Policy Recommendations".
The program was launched by Rasit Sarikaya, ALT Board Member, Dr. Hans Georg Fleck, Head of FNF Turkey Office and Dr. Barbara Kolm, Director of Austrian Economic Center and Free Market Road Show.
Prof. Dr. Haluk Alkan from Marmara University chaired the first session. Prof. Unsal Ban, Rector of Turkish Aeronautical Association University, Economist Unsal Cetin, columnist John Fund in Wall Street Journal and Federico Fernandez, Senior Research Fellow in Austrian Economics Center made presentations.
In this session, Prof. Unsal Ban evaluated Turkey- European Union relations in terms of economic and trade relations and indicated economic development and the change in Turkey via recent statistics. John Fund emphasized the importance of individual liberties and rule of law. He, considering the developments in the region, evaluated the situation of Turkey. Unsal Cetin discussed the sources of economic growth in Turkey after 2003. He noted that the measures taken following the 2001 economic crisis and fiscal policies in compliance with these measures were successful and post-crisis reforms gave good results. Last speaker of the first session was Federico Fernandez. Within the framework of Karl Popper's philosophical thought, he explained the notion of "pluralism".
The second session, entitled "Challenges, Promises and Policy Recommendations", was moderated by Dr. Mustafa Yasar, businessman and member of ALT. In this session, Dr. Barbara Kolm revealed that the concept of Europe was not only a region or a political unity, but also it is a "notion". She presented some policy recommendations such as expansion of open visa regime and decrease of the regulations on free trade. Professor Atilla Yayla from Istanbul Commerce University, by drawing the theoretical framework for a free society with liberal democracy and free competition assessed Turkey's democratization process and current situation. Gia Jandieri from New Economic School of Georgia discussed liberalization of economy and impacts of European Union in the region expressing the Georgian experience particularly after the collapse of Soviet Union. He pointed out that with the help of the European Union Neighborhood Policy, Georgia had carried out many reforms. Dr. Aykut Ekinci defined the notions of property and price and their functions in order to understand the economy. He evaluated the impacts of public intervention in the markets. Last speaker of the program, Dr. Krassen Stanchev from Institute for Market Economy in Bulgaria assessed Ukraine- EU relations in terms of free trade rules. He emphasized that liberalization of trade with Ukraine is important for the future of both EU and Ukraine.
The participants contributed to the program with questions and comments. The program gave opportunity to discuss problems of both Turkey and the EU in terms of individual liberty, free markets from different dimensions and to talk about reforms on reaching more pluralistic and more competitive structure for both member and non-member countries to the EU.